---
archiv 2023
13. 2. 2023
....tady bez ladu a skladu odkládám aktuality z hlavní stránky, které již pozbyly na aktuálnosti....
* * *
* *
*
31.1.-11.2. Will Wilde/The Bladderstones Tour, různá místa
13.2. The Residents, Divadlo Archa, Praha
14.-23.3. Three For Silver Tour, různá místa
25.3. Paul Batto Trio, Blues Café, Kutná Hora
3.-12.4. Bill Barrett & "Lazy" Brad Lewis, různá místa
15.4. Blues Aperitiv, Dům kultury Šumperk
17.4. Layla Zoe, Klub Na Rampě, Jablonec nad Nisou
18.4. Layla Zoe, Bounty Rock Cafe, Olomouc
21.-23.4. Bluestracje, MDK Batory, Chorzów (PL)
3.5. Joe Bonamassa, Forum Karlín, Praha
5.-6.5. United Islands of Prague, Praha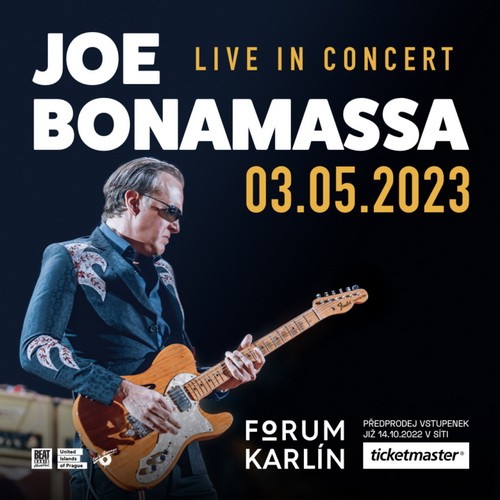 *
10.1.
2023 Blues Music Awards Nominees:

BB King Entertainer of the Year
Bobby Rush
Eric Gales
Mr. Sipp (Castro Coleman)
Sugaray Rayford
Tommy Castro
Album of the Year
The Blues Don't Lie, Buddy Guy
Hard Times, John Primer
Done Come Too Far, Shemekia Copland
May Be the Last Time, John Németh
Leave the Light On, The Love Light Orchestra
Band of the Year
Anthony Geraci & The Boston Blues Allstars
John Németh and the Blue Dreamers
Rick Estrin and the Nightcats
Southern Avenue
Tedeschi Trucks Band
Song of the Year
"Great Minds Drink Alike" Written by Jeff Schroedl
"I Want My Crown" Written by Eric Gales, Joe Bonamassa, & James House
"The Blues Don't Lie" Written by Tom Hambridge
"The Last Time" Written by John Németh
"Too Far To Be Gone" Written by John Hahn & Will Kimbrough
Best Emerging Artist Album
Buchanan Lane, Yates McKendree
Drums, Roots & Steel, DaShawn Hickman
Major League Blues, Jose Ramirez
Scream, Holler & Howl, Blue Moon Marquee
Who Is He?, Dylan Triplett
Acoustic Blues Album
Acoustic Burnside, Duwayne Burnside
Ain't Nobody Worried, Rory Block
Mississippi Son, Charlie Musselwhite
Thanks For Tomorrow, Harrison Kennedy
The Insurrection Blues, Corey Harris
Blues Rock Album
Crown, Eric Gales
Devil May Care, Tinsley Ellis
Highs & Lows, Bernard Allison
I Got Love, Albert Castiglia
Open Road, Colin James
Contemporary Blues Album
Blues Without You, Larry McCray
Done Come Too Far, Shemekia Copeland
Hard to Kill, Janiva Magness
I Ain't Playin', Diunna Greenleaf
The Blues Don't Lie, Buddy Guy
Soul Blues Album
Golden Girl, Trudy Lynn
Heartache by the Pound, Kirk Fletcher
In Too Deep, Sugaray Rayford
Leave the Light On, The Love Light Orchestra
Progeny, Kat Riggins
Traditional Blues Album
Bob Corritore & Friends: You Shocked Me, Bob Corritore
Hard Times, John Primer
May Be the Last Time, John Németh
Straight From the Heart, Kenny Neal
They Called It Rhythm & Blues, Duke Robillard
Acoustic Blues Artist
Doug MacLeod
Guy Davis
Harrison Kennedy
Rhiannon Giddens
Rory Block
Blues Rock Artist
Albert Castiglia
Joanne Shaw Taylor
Tinsley Ellis
Tommy Castro
Walter Trout
Contemporary Blues Female Artist
Beth Hart
Janiva Magness
Ruthie Foster
Teresa James
Vanessa Collier
Contemporary Blues Male Artist
Chris Cain
Christone "Kingfish" Ingram
Mr. Sipp (Castro Coleman)
Ronnie Baker Brooks
Selwyn Birchwood
Soul Blues Female Artist
Annika Chambers
Kat Riggins
Thornetta Davis
Trudy Lynn
Vaneese Thomas
Soul Blues Male Artist
Billy Price
Curtis Salgado
Don Bryant
John Németh
Johnny Rawls
Traditional Blues Female Artist (Koko Taylor Award)
Deitra Farr
Diunna Greenleaf
Rhiannon Giddens
Rory Block
Sue Foley
Traditional Blues Male Artist
Billy Branch
Duke Robillard
John Primer
Johnny Burgin
Sugar Ray Norcia
Instrumentalist - Bass
Bob Stroger
Danielle Nicole
Larry Fulcher
Michael "Mudcat" Ward
Willie J. Campbell
Instrumentalist - Drums
Chris Layton
Cody Dickinson
Derrick D'Mar Martin
Kenny "Beedy Eyes" Smith
Tony Braunagel
Instrumentalist - Guitar
Chris Cain
Christoffer "Kid" Andersen
Joanna Connor
Kirk Fletcher
Laura Chavez
Instrumentalist - Harmonica
Billy Branch
Bob Corritore
Dennis Gruenling
Jason Ricci
John Németh
Instrumentalist - Horn
Deanna Bogart
Gregg Piccolo
Jimmy Carpenter
Mark Kaz Kazanoff
Sax Gordon Beadle
Instrumentalist - Piano (Pinetop Perkins Piano Player)
Anthony Geraci
Ben Levin
Dave Keyes
Jim Pugh
Kenny "Blues Boss" Wayne
Instrumentalist - Vocals
Curtis Salgado
Danielle Nicole
Diunna Greenleaf
John Németh
Shemekia Copeland
*
20.1.
Česká Bluesová Asociace vyhlašuje soutěž
Czech Blues Challenge 2023.

Budeme rádi, když se přihlásíte, nebo budete dále šířit tuto pozvánku.
Sledujte naše stránky www.czechblues.cz.
Czech Blues Challenge 2023
Termín: neděle 14.5.2023
Místo: Základní umělecká škola (sál), Veselí nad Moravou
Speciální host večera: Gwyn Ashton (AUS)
Přihláška ke stažení zde
Uzávěrka přihlášek: 31.3.2023
Přihlášku pošlete emailem na info@czechblues.cz a czechblues@email.cz
Součástí přihlášky bude název kapely, krátké bio a dvě nahrávky mp3, případně odkazy na youtube.
Mezinárodní porota vybere čtyři finalisty, kteří ve Veselí nad Moravou vystoupí na finální soutěži.
Vítěz bude reprezentovat Českou republiku v roce 2024 na European Blues Challenge.
Těšíme se na Vás
Team České Bluesové Asociace

*
20.1.
.....předprodej vstupenek na European Blues Challenge 2023 byl právě zahájen....
*
*
20.3.
BILL BARRETT & BRAD LEWIS TOUR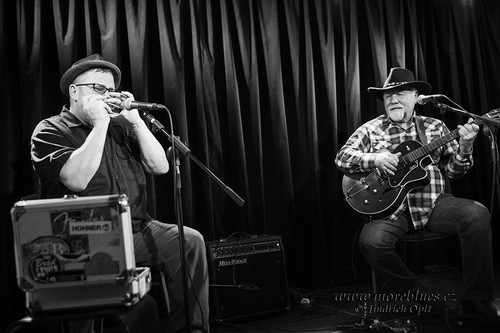 Bill je skvělej hráč na foukačku a párkrát u nás byl s výbornou kapelou Hazmat Modine..... poté co od nich odešel sem jezdí vždycky s nějakým kámošem, kterej hraje s ním.... poprvé to byl Ryan Donohue (kterej tady předtím byl s kapelou Crazy Hambones), potom dvakrát Brad Lewis, pak Michaela Gomez, a teď znova "Lazy" Brad..... vždycky to je velice příjemný....

3. 4. České Budějovice – Jihočeská vědecká knihovna
4. 4. Černošice – Club Kino
5. 4. Hradec Králové – Batalion U Draků
6. 4. Rožnov pod Radhoštěm – Brillovka
7. 4. Brno – Jazz bar U kouřícího králíka
8. 4. Sedlec u Mikulova – Mezi vraty
9. 4. Františkovy Lázně – Cowboy Billy Saloon
10. 4. Beroun – sál Wagnerovo náměstí
11. 4. Buštěhrad – Aktoffka
12. 4. Kutná Hora – Blues Café

jako obvykle přiváží Nostalgie Music Agency.....
*
1.2.
.....Three For Silver Tour.....
před necelým rokem jsem tuhle partičku viděl poprvé, a fakt jsem si to moc užil.... takže si to letos nejspíš někde zopakuju.... a doporučuju velmi..... i když, jak se dalo již před časem vytušit, přijedou v úplně jiné sestavě, jelikož jediným stálým členem je Lucas Warford.... takže to samozřejmě nejspíš bude trochu jiné.... ale necháme se překvapit.....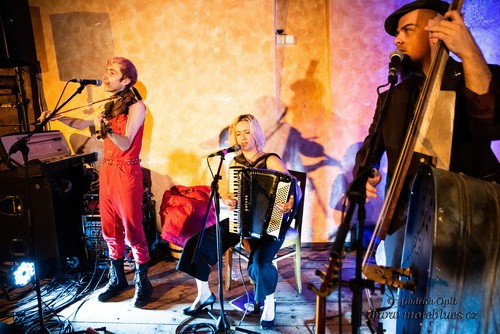 14. 3. Restaurace Pivovar, Přerov (Blues nad Bečvou)
15. 3. Dům Kultury, Šumperk
16. 3. Starý pivovar, Kroměříž
17. 3. Klub Maják, Bojkovice
19. 3. Divadlo Pod Čarou, Písek
20. 3. Městské divadlo, Žatec
21. 3. Club Kino, Černošice
22. 3. Centrum Kultury Jazovia, Gliwice (PL)
23. 3. MSD, Kolín
*
10.1.
Vyhlašujeme další ročník soutěže Blues Aperitiv pro nové talenty
24. ročník soutěže Blues Aperitiv je určen pro bluesové a z blues ve své tvorbě vycházející talenty bez ohledu na jejich zemi původu. Hlavním lákadlem pro vítěze je možnost vystoupení na festivalu Blues Alive, který se koná 16.-18. listopadu 2023.
Ze všech přihlášených porota vybere sedm postupujících a dva náhradníky, kteří se naživo představí na finálovém večeru v sobotu 15. dubna 2023 v Domě kultury v Šumperku. Finalisté se představí pětičlenné odborné mezinárodní porotě a také před zkušenými diváky. Mezinárodní rozměr soutěže nově podtrhuje přítomnost zástupce zastřešující organizace European Blues Union v porotě.
Z finálového večera postoupí na listopadové Blues Alive 2023 dva vítězové. Šanci podívat se na festival získá rovněž ten účinkující, který dostane nejvíce hlasů od publika. Také další účinkující, kteří na přehlídce Blues Aperitiv zaujmou porotu, mohou dostat pozvánku k hraní na vedlejších scénách Blues Alive, jiných českých festivalech či na přehlídkách v Polsku.
Podmínky zařazení do výběru:
Pokud máte zájem zúčastnit se soutěžní přehlídky Blues Aperitiv a v případě vítězství také mezinárodního festivalu Blues Alive, zašlete přihlášku na adresu aperitiv@bluesalive.cz
Uzávěrka přihlášek je 1. března 2023
Přihláška musí obsahovat název souboru, jmenné a nástrojové obsazení, technické požadavky, webovou adresu, aktuální fotografii v tiskové kvalitě, stručný profil interpreta a dva spolehlivé telefonické a emailové kontakty na jeho členy.
Pro základní výběr je nutné zaslání nahrávek souboru v digitální podobě. Minimálně tři skladby ve formátu mp3, případně odkaz na digitální přehrávač (typu Bandcamp příp. YouTube, nikoli však streamovací platformy typu Spotify, Deezer apod.), pošlete společně s přihláškou. Neposílejte CD ani další pevné hudební nosiče.
Přihlásit se mohou i umělci, kteří absolvovali Blues Aperitiv v minulosti.
*
16.1.
Will Wilde Tour 2023
.....už poněkolikáté se u nás objeví skvělej britskej foukačkář Will Wilde.... já jsem ho viděl před pěti lety s rakouskýma Roosevelt Houserockers a nedávno s britskou kapelou Brighton Blues Cartel.... někteří měli možnost navštívit v Budějcích jediný vystoupení, který u nás měl se svojí sestrou, výbornou kytaristkou Dani Wild, a možná tady byl i jindy a jinak.... tentokrát ho doprovodí naše uznávaná kapela The Bladderstones, takže je určitě na co se těšit.....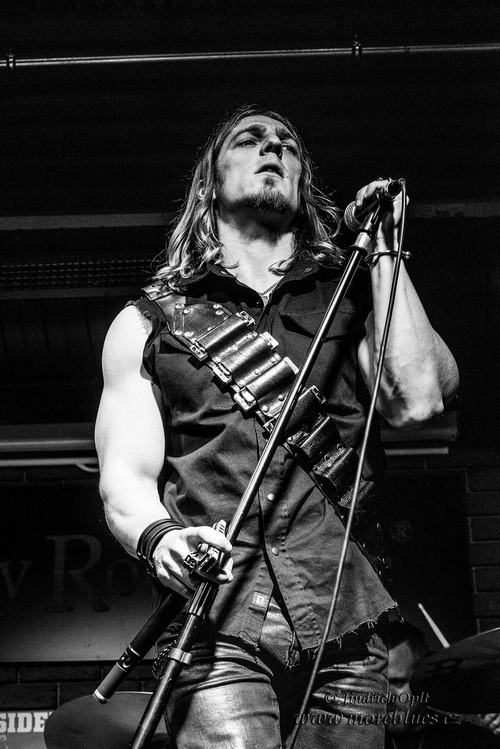 31. 1. Černošice, Club Kino
1 .2. Bílina, rock pub Moskva
2. 2. České Budějovice, Highway 61
3. 2. Polička, Divadelní klub
4. 2. Česká Třebová, Modrý Trpaslík
5. 2. Valašské Meziříčí, Malá scéna za oponou
7. 2. Přelouč, Občanská záložna
8. 2. Boskovice, Zámecký skleník
9. 2. Rýmařov, Jazzklub
10. 2. Ostrava, klub Parník
11. 2. Znojmo, penzion U císaře Zikmunda
*